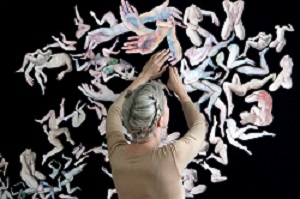 January 25, 2018 - February 24, 2018
---
Inaugurating her 4th solo exhibition at VILTIN Gallery, Klára Petra SZABÓ presents her latest works extended towards new themes and solutions with regards to both the subject-matter and its presentation.
Early in her career, SZABÓ became known for her rich detail watercolor series about fashion that she themed like social phenomenon. Although the genre had grown into being her trademark, the intonation turned towards personal issues. While the Art & Style series recorded the friends' clothing in documentary portraits, the central motif became herself in the latest series titled Black Box and The Collector (2017).
The black boxes with convertible top don't deal with the appearance of the acquaintances, instead, the subject of the survey is their mentality and mindset depicted in the form of a random citation paired with a watercolor work of its related scene. Addressed to the artist, the colleagues reflect on wider social issues with the seemingly kind remarks. Pursuant to the apparently innocent comments, a traditional and one-dimensional role model of the artist, the woman, the wife and the potential mother evolves.
The repetitive, yet diverse motif set of The Collector series is built of different nude body parts appearing fragmented, separately from one another. The limbs detached from the torso being pinned on the most sensible, soft points give the sense of incapacity. SZABÓ's body becomes the subject of the collector's unknown intention as well as of her own observation at once. In view of the factors encouraging introspection, the apparent private opinions and the erogenous zones however force us to focus on daily social issues as well.
Watercolor series and their animated video works form the oeuvre of Klára Petra SZABÓ (1981, Hódmezővásárhely, HU). Using her own photos, her primary focus is man: friends, acquaintances and her private circle. Besides winning the Gyula Derkovits Scholarship (2011-2014), she had numerous solo exhibitions both in Hungary and in South Korea.  She participated on group shows of the Hungarian National Gallery, the Kunsthalle and the Studio of Young Artists' Association. She is also a regular participant of relevant residency programs (among them: Budapest Gallery-KunstQuartier Atelier, Salzburg; Amadeus-Union MoKS; Incheon Art Platform; Seoul Museum of Art-South Korea International AIR; Krinzinger Projekte AIR, Petőmihályfa).Her works can be found in Hungarian and international collections as well.