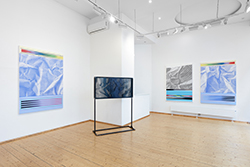 September 7, 2022 - October 15, 2022
---
VILTIN Gallery is delighted to present at its season opening exhibition the works of Bea KUSOVSZKY. Video Killed The Radio Star is s complex installation consisting of abstract paintings and sculptures placed in the exhibition space. 
KUSOVSZKY moved away from paintings incorporated with figurative elements to arrive to geometrized non-figurative art. Her current visual world is explored through different grades of material, patterns, gestures, colour gradients, optical and moiré patterns. 
Typical of the artist?s image library are her reoccurring details, deriving from the representations of pop-art, which are constantly expanded by the imprints of digital culture visuals. Therefore, her works create a electrifying meeting point between the analogue and digital world.
Her frame systems are vibrant paintings built on an experimental plane. Their linear analysability offers driven examination as the primary option for image scanning. Accordingly, after going from element to element, from detail to detail, from point to point her intimate system of algorithm is revealed in front to the viewer. Consequently, the intelligence of her cheeky parallels and the illusionary unity of hidden the details tell upon themselves. The sealed painting structures after closer examination become visibly open and playful. Not only hues, patterns, colour contrasts and forms meet, but solid textures as well. It is apparent not only on the differently applied black acrylic layers, but mostly can be observed, where the gradient colour changes mirror each other like twins, becoming almost identical tones. 
Certain elements, such as the ?crumbled paper? are applied onto the canvas after digital transformation, rewriting it decipherability. With changing scale and view it bears the regular signifiers of recognition, meanwhile it can be understood as the broad scale effect of digital visuality, almost reaching into sound. Henceforward the rhythm of the paintings can be understood not only in a figurative sense. 
The squares within the image borders and the motifs distributed between the paintings, all can be traced back to New media art. The image panels can be linked to desktop art or the early avant-garde?s Dadaist films. This ?windowlikeness? also helps the viewer to realize the course of spectatorship. The conscious modular and non-linear construction of the paintings also suggests the notions of digital art, where hypertextuality is an important mode of expression. 
This kind of medial interaction can be detected on the sculptures, which recall in several layers the digitalized patterns appearing on the paintings. Therefore, the illusion of perspective seen on her earlier works becomes a complex installation of paintings and objects. Bea KUSOVSZKY contrarily chose a classic medium to react to a technology and multimedia heavy aesthetic that is constantly develops by its nature.